Middle-earth: Shadow of War free content announced
Middle-earth: Shadow of War players will be able to enjoy a variety of free content which will become available over the next few weeks.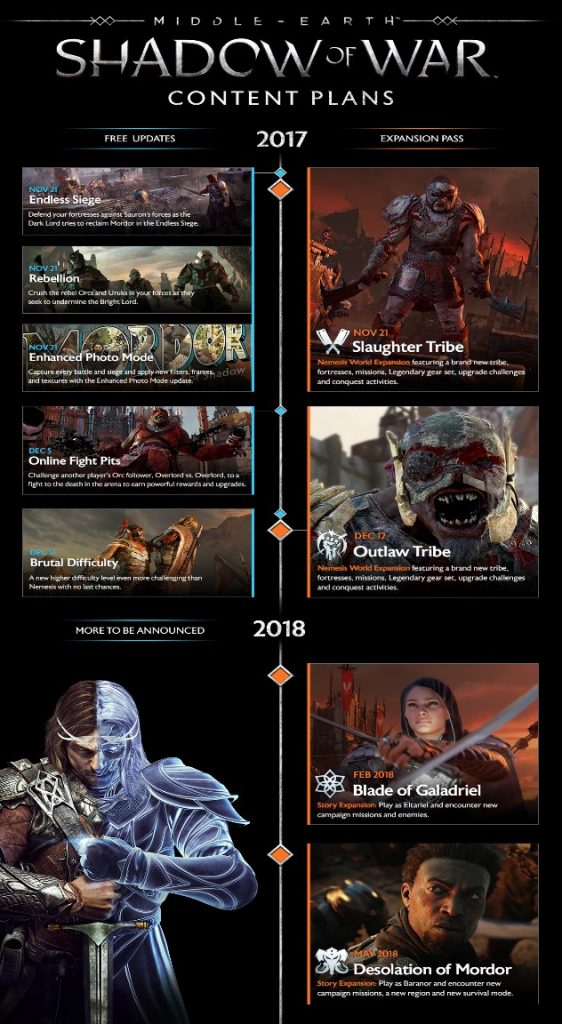 Starting with "Endless Sieges" which is set to be released on 21st November. Warner Bros describes it as "defending your fortresses against Sauron's forces as the Dark Lord tries to reclaim Mordor in the Endless Siege."
Likewise, on the same date, "Rebellion" free update is set to arrive. WBIE describes it as "Crush the rebel Ologs and Uruks in your forces as they seek to undermine the Bright Lord."
Furthermore, on 21st November, the game will have an Enhanced Photo Mode which comes with "new filters, frames and textures."
Moving into December, Online Fight Pits will be available on the 5th. The press release describes Fight Pits as "challenging another player's Orc follower, Overlord vs. Overlord, to a fight to the death in the arena to earn powerful rewards and upgrades."
Finally, the last free content update for now is a new "Brutal Difficulty" mode. It is described as "even more challenging than Nemesis with no last chances."
Additionally, WBIE have announced the release dates for Shadow of War's first two paid DLC expansions. The "Slaughter Tribe" which will be released on 21st November. Followed by "Outlaw Tribe" which is set to be released on 12th December. Both expansions will be £11.99 each or as part of the £32.99 expansion pass.
Middle-Earth: Shadow of War is available for Xbox One, Windows PC and PS4.