Dark and Light Christmas Update and New Content Revealed
Dark and Light [Steam], Snail Games' fantasy survival title for PC, just got the Christmas treatment. The game has undergone a bit of a makeover with the winter holidays approaching and the developers have also shared some details on upcoming features.
Christmas Content
With the new seasonal content live, players can now take part in various Christmas activities. For example, you can now create a snow wraith or go for a swim in a freezing lake. The major cities in Archos have also received some love. Apart from the obvious Christmas decorations, they now feature various presents that you can find and unwrap for special loot.
Of course, Dark and Light is a fantasy title, so there are some new magical elements with a Christmas touch to them. For example, reindeer will now spawn around the world. They only show up during the coldest weather and only eat carrots. So, if you would like to tame one, you better stock up on that newly added crop type. And since these are Christmas reindeer, they come with a bright red nose and the ability to fly.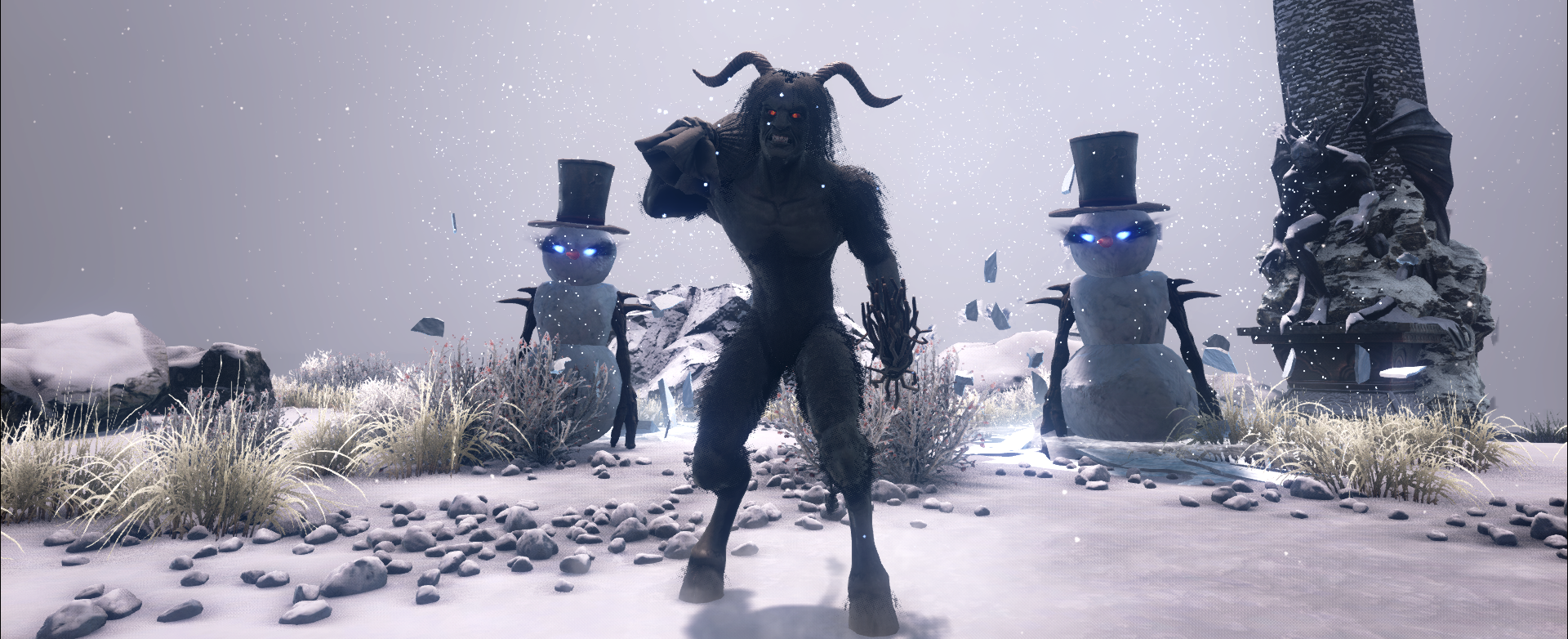 The holiday event also features a new demon – Krampus. He spawns near the three major cities in the world and comes with his own evil snowmen bodyguards. So, be on the lookout when traversing the land, because Krampus and his minions will attack on sight.
If you would like to just decorate your virtual home for the holidays, Dark and Light has you covered too. There are now Christmas-themed decor Schemas that you can learn. Crafting any of them will permanently keep them in the world, so it can be Christmas all year round if you wish.
Other than the holiday content, the new Dark and Light version comes with some additional updates too. These include dyes, the already-mentioned carrots, and some more city rearrangement.
The areas of the cities that are going to get an overhaul are marked by a glowing circle. If you happen to have a building there, make sure to relocate it before the next patch, or it will be deleted when the city is rearranged. Thankfully, this is the last planned update of the cities' layouts, so when the next update hits, you can feel free to set up wherever you want with no danger of losing your buildings.
Airships are Coming
The most exciting news that Snail Games shared are probably the upcoming airships. If everything goes according to plan, when the next major update rolls out, players will be able to take to the skies in these flying fortresses.
From what we have seen in the trailer, the airships are absolutely massive and feature some serious firepower in the form of broadside cannons. We, for one, cannot wait to build one and take it up in the air for a spin.
Of course, raiding an airship also looks like a pretty fun activity. Attacking these behemoths from the back of your own dragon is sure to raise your adrenaline level, so we are pretty pumped for that.
If this sounds like something you'd enjoy, make sure to check out the trailer below. Also, for the full patch notes, follow this link.
Did you get a chance to try the new Dark and Light update yet? Make sure to share your thoughts in the comments below!