New Shiny Pokemon GO Monster Confirmed
Shiny Pokemon GO monsters have been around for a while now. Magikarp and Gyarados were the first Pokemon to receive their own shiny variations. Since then, many others joined this prestige company. The latest addition to the shiny Pokemon GO team is Sableye.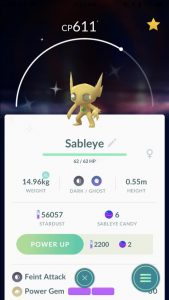 Confirmation came from various players all over the globe. Ever since the Pokemon GO Halloween event started, they flooded social media with screenshots of their brand new Gen 3 monsters. Those included a golden variation of the regular Sableye. The shiny version of the Pokemon also comes with a change in eye colour. The huge gems on his face are light yellow, instead of blue.
At this point, it is still unknown whether Sableye is the only new monster to get a shiny counterpart. However, Trainers have more than enough time to find out, and we are sure they will. The Halloween event will run until November 3, so there are still two weeks left of it.
According to GameRant, there are also hints of shiny Pokemon GO legendaries. It appears that they are hiding in the source code, but are still unavailable in the current version.
In the meantime, we can enjoy the growing collection of shinies while waiting for the rest of the Gen 3 monsters. No one knows how many of them will have shiny variations. However, Niantic officially confirmed that the normal Gen 3 Pokemon will arrive by the end of December.